December 7th - December 13th
"Contaminated hands of health care workers are a primary source of infection transmission in health care settings (Potter, Perry, Stockert & Hall, 2013, p. 410)." As student nurses, we have a responsibility to do all that we can to protect our patients. By failing to perform proper handwashing, we put everyone at unnecessary risk for health care-associated infections (HAIs). These preventable HAIs result in increased medical costs, longer hospitals stays, and prolonged recovery times for our patients (Potter, Perry, Stockert & Hall, 2013, p. 403). By being conscious of our hand hygiene and following the CDCs guidelines listed below, we can help to ensure that neither our colleagues nor our patients are put at unnecessary risk.
According to the CDC:
Alcohol-based hand rubs have been proven to improve hand hygiene practices, protect health care workers, and reduce pathogen transmission in the hospital setting. These rubs are appropriate for use when:
➢ Hands are not visibly dirty
➢ Entering or exiting patient rooms
➢ After contact with bodily fluids, broken skin, and wound dressings
➢ Before caring for immunosuppressed patients
➢ After removing gloves
Physical hand washing with soap and water utilizes friction to remove soil and microbes from the skin. See the video below for a demonstration of proper hand washing technique. Utilize physical hand washing when:
➢ Hands are visibly soiled
➢ Before eating
➢ After using the restroom
➢ After handling spore forming bacteria such as C. difficile and B. anthracis
➢ Whenever alcohol-based rubs are unavailable
(Potter, Perry, Stockert & Hall, 2013, p. 411)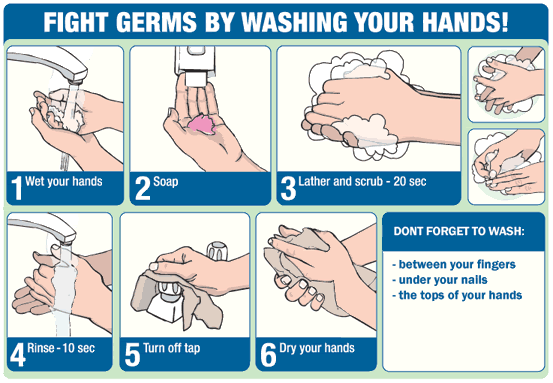 Click below for a demonstration of proper handwashing technique:
For FREE handwashing promotional publications, check out the American Cleaning Institute:
http://www.cleaninginstitute.org/cleanhandspublications/
See what the CDC has to say here:
http://www.cdc.gov/handwashing/ ;
Resources:
Potter, P.A., Perry, A. G., Stockert, P.A., and Hall, A.M. (2013). Fundamentals of nursing. (8th ed.). St. Louis, MO: Elsevier-Mosby.
For Better Living Calendar (n.d.). Retrieved from http://www.cleaninginstitute.org/2014_national_handwashing_awareness_week/
Whatcomnursing. (2011, June 16). Washing Hands – Nursing Assistant Training Skill #1 [Video File]. Retrieved from https://www.youtube.com/watch?v=rFTVKkMqpIQ

Categories: None